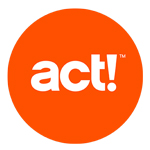 Act! CRM Premium Cloud is the fully featured cloud based version of Act! CRM hosted by Act! and includes the Basic version of Act! Marketing Automation.
Features & Options:
Act! CRM Premium Cloud has a number of options and addon packages available including:
Remote database sync
Custom Tables
Act! Marketing Automation additional plans
SMS4ACT – SMS Texting option
Additional Cloud Storage
Enhanced support
Important Notes:
Review Act! system requirements here.
There are NO FIELD SCEURITY options with Act! CRM Premium Cloud, existing field security options in an imported database will be retained, but it is not possible to set any field security options once in the cloud.
You must purchase one license of Act! CRM per user.
Scalability varies based on hardware, size, and usage of your database.
Integration with MS Outlook and Google and other applications is dependent on compatibility which can vary between versions of Act! and other target applications.
Act! software Legal & Contractual Information
E.& O.E
Act! CRM Premium Cloud is provided on an annual subscription basis and costs £300 + VAT Per Annum / Per User (based on unique email address) This is standard pricing and from time to time there may be offers in place if upgrading from earlier versions of Act!