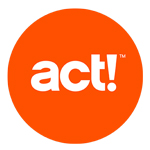 CRM software built for how you do business
Act! Premium Cloud CRM is available to businesses who wish to host their own cloud based Act! CRM database on a local web server.
With instant online access to rich contact, calendar, and opportunity details accessible from your laptop, tablet, and mobile device. (Subject to internet access) Work online for real-time access to Act!
Collaborate with your team to stay up-to-date on the latest contact and activity details, automate best-practice sales processes, and send targeted email marketing campaigns – from in the office, or on the road.
You can also have remote databases configured to run locally on a PC or laptops which sync with the hosted database.
By hosting Act! on your own webserver for external web based access you can also benefit from using 3rd party addons for Windows based users internally, thus employing a hybrid deployment.
Important Notes:
Review Act! system requirements here.
You must purchase one license of Act! CRM Premium per user.
Scalability varies based on hardware, size, and usage of your database.
Integration with MS Outlook and Google and other applications is dependent on compatibility which can vary between versions of Act! and other target applications.
Act! software Legal & Contractual Information
E.& O.E